Federal and State Statutory Violations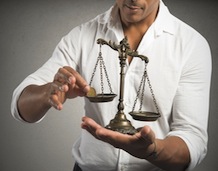 Securities fraud attorneys at Mark Anchor Albert and Associates have successfully handled federal and state securities law claims for both plaintiffs and defendants for over 25 years at the highest levels.
The phrase "federal securities laws" typically refers to seven specific federal statutes governing securities transactions. See 15 U.S.C. § 78c(a)(47) (1994) (defining "securities laws" to include these seven acts). Congress enacted the first six of these statutes between 1933 and 1940: Securities Act of 1933, 15 U.S.C. §§ 77a-77aa (1994); Securities Exchange Act of 1934, 15 U.S.C. §§ 78a-7811; Public Utility Holding Company Act of 1935, 15 U.S.C. §§ 79 to 79z-6; Trust Indenture Act of 1939, 15 U.S.C. §§ 77aaa-77bbbb; Investment Company Act of 1940, 15 U.S.C. §§ 80a-1 to -64; and Investment Advisers Act of 1940, 15 U.S.C. §§ 80b-1 to -21. Congress enacted the seventh statute in 1970, the Securities Investor Protection Act of 1970, 15 U.S.C. §§ 77aaa-78111 (1994). Congress has delegated to the Securities and Exchange Commission (SEC) the general authority of administering the various provisions of the federal securities laws. See 15 U.S.C. § 78d (1994) (providing for the establishment of the SEC and the requirements of its members).
In order to state a claim under Section 10(b) and Rule 10b-5 of the Exchange Act (5 U.S.C. § 78j(b) and 17 C.F.R. § 240.10b-5), Plaintiffs must allege sufficient fact to establish the existence of scienter, a "mental state embracing intent to deceive, manipulate or defraud." Ernst & Ernst v. Hochfelder (1976) 425 U.S. 185, 194. For "each act or omission" alleged to violate section 10(b), plaintiffs must "state with particularity facts giving rise to a strong inference that the defendant acted with the required state of mind." PSLRA, 15 U.S.C. § 78u-4(b)(2).
Similarly, sections 25400 and 25401 of the California Corporations Code generally prohibit (i) sales or offers to sell, or purchases or offers to purchase; (ii) of securities in California; (iii) by means of any written or oral communication; (iv) which is materially untrue or omits material facts necessary to prevent the statement from being misleading under the circumstances in which it is made. See Cal. Corp. Code §§ 25400(d) and 25401. The damage provisions for sections 25400 and 25401 are sections 25500 and 25501, respectively. These sections permit the court to award damages, or in the case of section 25501, rescission, if liability under Section 25400 or 25401, respectively, has been established. Sections 25504 and 25504.1 impose joint and several liability for principals and agents or for other persons who willfully and materially participate in violating Sections 25401 and 25501. Cal. Corp. Code §§ 25504 & 25504.1.
Section 25400 of the California Corporations Code imposes liability on: (1) sellers or purchasers of securities (or persons offering to sell or purchase securities); (2) who knowingly misrepresent or omit material facts; (3) to induce sales or purchases of securities. Cal. Corp. Code § 25400(d). Section 25500 provides a remedy by imposing liability on "any person who willfully participates in any act or transaction in violation of Section 25400." Cal. Corp. Code § 25500.