Bankruptcy Litigation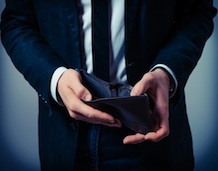 The bankruptcy litigators at Mark Anchor Albert and Associates bring substantial experience, motion practice expertise, and courtroom prowess to bear for the firm's clients in complex bankruptcy disputes by virtue of their decades of litigation and trial successes, and bankruptcy appellate achievements. Chapter 11 bankruptcy cases in particular often lead to litigation involving corporate insiders and creditors, typically implicating complicated coverage issues under D&O and E&O insurance policies, and sometimes even CGL insurance policies. When litigation occurs in the bankruptcy context, clients require business litigators who not only are well versed in the unique procedures, rules, and substantive principles of bankruptcy law, but who also are top-flight analysts, skillful strategists, and courtroom advocates. The bankruptcy litigators at Mark Anchor Albert and Associates have been involved in major bankruptcy litigation for the debtors and their estates, through trustees and receivers, and for secured and unsecured creditors and creditor committees, in myriad different contexts. These bankruptcy litigation cases have involved, among other substantive issues:
The Los Angeles bankruptcy litigation lawyers at Mark Anchor Albert and Associates are accomplished in complex bankruptcy disputes and have prosecuted and defended adversary proceedings in both bankruptcy court and federal district courts. We have succeeded, among other victories, in removing state court lawsuits to bankruptcy court on bankruptcy "related to" grounds, for defendants, in remanding previously-removed cases to state court, in obtaining and opposing automatic stays, in asserting and opposing objections to claims, in bringing and opposing fraudulent and preferential transfer claims, and handling virtually every type of D&O claim and related insurance coverage issues impacting debtors-in-possession and other insolvency proceedings involving corporations, partnerships, and limited liability companies.
We also have handled bankruptcy-related appeals to the district court, before the Bankruptcy Appellate Panel, and the Ninth Circuit, for both appellants and respondents, achieving winning results both at the trial level and at the appellate level in complex bankruptcy-litigation.
Examples of representative bankruptcy litigation matters include:
Thomason Auto Group, LLC v. Mario H. Ferla et al.
Served as defense counsel for a group of former officers and directors of two bankrupt corporations in a RICO lawsuit brought by a large institutional investor in the U.S. District Court for the District of New Jersey. Successfully moved to transfer the action to the U.S. Bankruptcy Court for the Central District of California on bankruptcy "related to" grounds, and obtained a nuisance-value settlement after moving to dismiss the RICO claims, with no contribution by the defendants, but instead paid entirely by their D&O liability insurance carrier, together with a public recantation by the plaintiff of any wrongdoing by the defendants.
In re Chamco and ZXNA Bankruptcy Adversary Proceedings
Served as both plaintiffs' counsel and as defense counsel for former officers and directors of two Chapter 11 debtors—Chamco and ZXNA—in three state-law adversary actions removed from the New Jersey Chancery Court to the United States Bankruptcy Court for the Central District of California. Successfully opposed remand and abstention under 28 U.S.C. §§ 1334, 1452. Negotiated a no-dollar settlement with the Chapter 11 U.S. Trustee of all claims or potential claims that were or could have been asserted against the officers and directors.
Based on several months of adversarial negotiations with a senior U.S. Trustee and his national counsel, motion practice, and an evidentiary hearing in the U.S. Bankruptcy Court for the Central District of California, we obtained a full settlement and release of all claims by the debtor and the U.S. Trustee against the debtor's former officers and directors. Our clients paid no money to settle the case, which alleged over $100 million in damages, obtaining instead an evidentiary finding by the U. S. Trustee of the factual innocence of our clients.
SEC v. Diversified Lending Group, Inc., Applied Equities, et al.
Served as plaintiffs' counsel for project manager and mechanic's lien claimants in connection with a major residential redevelopment project in Malibu subject to a receivership action in the U.S. District Court arising from a Ponzi scheme prosecuted by the SEC. Prepared and filed mechanic's liens and prosecuted them to a successful resolution. Negotiated favorable settlement with the receiver and obtained approval of the settlement by the U.S. District Court for the Central District of California.
In Re Enron Corp. Securities Litigation
Prepared complaints by various pension funds, bond funds, and fund managers against various Wall Street investment banks and their affiliates in connection with their sale of fraudulently-inflated Enron debt securities, equities, and off-balance sheet debt instruments. Significant role in researching, analyzing, and drafting remand motions in the various state actions removed to federal court by the investment bank defendants on ground of "related to" bankruptcy jurisdiction, resulting in favorable published opinions: e.g., Transamerica Fin. Life Ins. Co. v. Merrill Lynch & Co., 302 B.R. 620, 623 (S.D. Iowa 2003); AUSA Life Ins. Co. v. Citigroup, Inc., 293 B.R. 471 (N.D. Iowa, 2003); and Citigroup, Inc. v. Pac. Inv. Mgmt. Co. (In re Enron Corp.), 296 B.R. 505 (C.D. Cal. 2003).
China State Construction And Engineering Corp. Bankruptcy Litigation
Represented the largest Chinese state-owned construction and engineering corporation in post-trial adversary proceedings in federal court, regarding various construction-defect claims and cross-claims arising from a large-scale engineering and development project. Successfully briefed and argued the appeal of a nationwide asset turn-over order by the bankruptcy judge. Achieved a favorable discounted settlement after arguing the appeal.
In re County of Orange/KPMG Bankruptcy Litigation
Defended KPMG Peat Marwick and its partners in several related state and federal lawsuits arising from the Orange County, Ca. bankruptcy, seeking collectively more than $3 billion in damages from our clients. Took and defended dozens of key depositions, including the Managing Director of plaintiff Orange County Water District, key internal auditing and accounting professionals, and outside financial advisors. Prepared critical motions, including motions to transfer venue due to prejudicial post-trial publicity, motions for summary judgment and summary adjudication, and important discovery motions. Assisted in defense of motion for proposed international defendant class action of KPMG partners worldwide. Achieved with team a favorable nationwide class settlement before trial.
In re YaHsin Industrial Co. / Protron Digital Corp. Litigation
As the bankruptcy court appointed and approved Special Litigation Counsel to the primary secured creditor of two debtor companies, the firm's attorneys acting for the debtors' estates, asserted claims against the former majority shareholder, director, and other insiders of the debtors, including their former outside general counsel, for breach of fiduciary duty, aiding and abetting breaches of fiduciary duties, avoidance of fraudulent conveyances and insider preferences, and legal malpractice, seeking more than $12 million in recoveries for fraudulent and preferential transfers. Coordinated Bankruptcy Court Adversary Proceeding litigation with related state court and arbitration proceedings.
To succeed, complex bankruptcy litigation requires not only expertise in the complicated and sometimes arcane bankruptcy rules and procedures, but also substantive knowledge of specialized bankruptcy statutes that impact cases litigated in the bankruptcy context, whether before Article III federal district court judges or bankruptcy judges. Whether you are prosecuting or defending claims in connection with a bankruptcy proceeding, you need experienced, diligent, and practical counsel who know how to win in the most efficient and cost-effective manner. Mark Anchor Albert and Associates is a skilled bankruptcy litigation firm who has the financial, accounting, and legal litigation experience and expertise to achieve winning results in complex bankruptcy litigation for debtors and debtors-in-possession, trustees and receivers, and secured and unsecured creditors and creditor committees, no matter how difficult the case may seem.