Fraud and Deception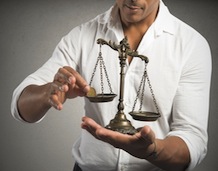 Financial services litigators at Mark Anchor Albert and Associates have handled fraud and deception cases involving complex financial transactions totaling billions of dollars.
In California, claims for fraud in connection with the marketing, purchase, and sale of a security can be made both by statute and under common law. For example, California Corporations Code section 25401 prohibits the sale of securities by means of a communication that contains a material misrepresentation or omission. Section 25401 provides: "It is unlawful for any person to offer or sell a security in this state... by means of any written or oral communication which includes an untrue statement of a material fact or omits to state a material fact necessary in order to make the statement made, in the light of the circumstances under which they were made, not misleading."
Three related statutes create civil liability for violations of Section 25401:
Section 25501: "Any person who violates section 25401 shall be liable to the person who purchases a security from him or sells a security to him ...."
Section 25504: Every broker-dealer who materially aids the violation, and any "person" who "directly or indirectly controls" a violator, are also liable.
Section 25504.1: Any "person" who "materially assists" the violation with intent to deceive or defraud is also liable.
Scienter is not a required element in a case for violation of section 25401 brought against a statutory seller (under section 25501).Neither section 25401 nor Section 25501 "requires that the plaintiff allege or prove as part of his or her prima facie case that the misstatement or omission by the defendant was made intentionally or negligently." 1 Marsh & Volk, Practice Under the California Securities Laws (Revised Ed.) § 1403[3][a]. Rather, Section 25501 merely provides a defendant with the following affirmative defense: "unless the defendant proves that the ... defendant exercised reasonable care and did not know (or if he had exercised reasonable care would not have known) of the untruth or omission."
Nor is a showing of scienter required against a broker-dealer who materially aids the violation or a control person (under section 25504). Section 25504 provides the following affirmative defense for a control person or a materially aiding broker-dealer: "unless the other person who is so liable had no knowledge of or reasonable grounds to believe in the existence of the facts by reason of which the liability is alleged to exist."
Under California common law, the essential elements of a claim of fraud by an intentional misrepresentation are: (1) The defendant made a representation as to a past or existing material fact; (2) the representation was false; (3) the defendant must have known that the representation was false when made (or must have made the representation recklessly without knowing whether it was true or false); (4) the defendant made the representation with an intent to defraud the plaintiff, that is, [he] [she] must have made the representation for the purpose of inducing the plaintiff to rely upon it and to act or to refrain from acting in reliance thereon; (5) the plaintiff was unaware of the falsity of the representation; must have acted in reliance upon the truth of the representation and must have been justified in relying upon the representation; and (6) as a result of the reliance upon the truth of the representation, the plaintiff sustained damage.
A claim of fraud based on mere nondisclosure may arise when there is a confidential relationship, when the defendant has made a representation that is likely to mislead absent a disclosure, when there is active concealment of the undisclosed matter, or "when one party to a transaction has sole knowledge or access to material facts and knows that such facts are not known to or reasonably discoverable by the other party." Goodman v. Kennedy (1976) 18 Cal.3d 335, 347.