Breach of Contract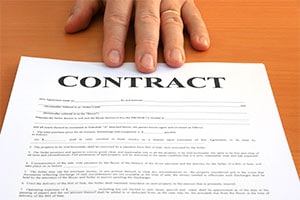 Commercial litigation lawyers at Mark Anchor Albert and Associates have successfully handled many breach of contract cases in state and federal court, and in arbitration and mediation proceedings.
The professional relationship between an architect, engineer, or attorney and their clients is contractual in nature: professional services are provided in exchange for compensation, typically in the form of a money payment for fees plus costs.
California Civil Code section 1549 provides that "[a] contract is an agreement to do or not to do a certain thing." Courts have defined the term as follows: "A contract is a voluntary and lawful agreement, by competent parties, for a good consideration, to do or not to do a specified thing." Robinson v. Magee (1858) 9 Cal. 81, 83. California Civil Code section 1622 provides that "all contracts may be oral, except such as are specially required by statute to be in writing." Evidence of a contract that is partly oral may be admitted if only part of the contract is fully integrated. When the parties to a written contract have agreed to it as an 'integration'—a complete and final embodiment of the terms of an agreement—parol evidence cannot be used to add to or vary its terms. However, when only part of the agreement is integrated, the same rule applies to that part, but parol evidence may be used to prove elements of the agreement not reduced to writing. This has long been the law in California. See Masterson v. Sine (1968) 68 Cal. 2d 222, 225.
A complaint for breach of contract must include the following: (1) the existence of a contract, (2) plaintiff's performance or excuse for nonperformance, (3) defendant's breach, and (4) damages to plaintiff therefrom. Acoustics, Inc. v. Trepte Construction Co. (1971) 14 Cal.App.3d 887, 913. Additionally, if the defendant's duty to perform under the contract is conditioned on the happening of some event, the plaintiff must prove that the event transpired. Consolidated World Investments, Inc. v. Lido Preferred Ltd. (1992) 9 Cal. App. 4th 373, 380.
Implicit in the element of damage is that the defendant's breach caused the plaintiff's damage. Troyk v. Farmers Group, Inc. (2009) 171 Cal.App.4th 1305, 1352 (2009). When a party's failure to perform a contractual obligation constitutes a material breach of the contract, the other party may be discharged from its duty to perform under the contract. Normally the question of whether a breach of an obligation is a material breach, so as to excuse performance by the other party, is one of fact. "Whether a partial breach of a contract is material depends on 'the importance or seriousness thereof and the probability of the injured party getting substantial performance. A material breach of one aspect of a contract generally constitutes a material breach of the whole contract.'" Brown v. Grimes (2011) 192 Cal.App.4th 265, 277-278.
Attorney fee agreements typically are custom and specifically tailored to particular clients and cases. If any attorney fails to perform services in the manner or time required by his or her engagement agreement with the client, and the client's interests have been harmed as result of that failure, the client may have a valid claim against the attorney for breach of the engagement agreement. This may be in addition to a claim for professional negligence (legal malpractice).
Engineering and architects have three primary families of form construction-related documents that are commonly used in California and nationwide: AIA A201-2007, Consensus DOCS-2009, and EJCDC C-700. The AIA Family of Construction Documents are prepared by the American Institute of Architects ("AIA") and are the most popular form construction documents used in California and nationally. See http://www.AIA.org. The Consensus DOCS were developed by a coalition of twenty-three leading industry organizations representing owners, contractors, subcontractors, designers, and sureties, as an alternative to the AIA form documents. See http://www.consensusdocs.org. The EJCDC Documents are prepared by the Engineers Joint Contract Documents Committee ("EJCDC") and are issued and published jointly by the (1) National Society of Professional Engineers, (2) Consulting Engineers Council, (3) American Society of Civil Engineers, and (4) Construction Specifications Institute. See http://www.EJCDC.org. Each of the form contacts in the AIA, Consensus DOCS and EJCDC portfolios contain numerous terms and conditions, including express and implied warranties, that, when breached, can form the basis for contract claims against the breaching party.
Contractual breaches by professionals—whether attorneys, architects, and engineers, or accountants and auditors—can result in steep losses for their clients. Los Angeles litigators at Mark Anchor Albert and Associates have an established track record of success that have earned for them a solid reputation for staunch advocacy against the most determined adversaries. If you have been harmed due to a professional's breaches of contract, they will apply their skills, experience, and expertise to achieve the best possible outcome, no matter how difficult your case may seem.